About the Department

The Department of Microbiology and Cell Science is committed to excellence in education, research and service to the community. The Microbiology and Cell Sciences B.S. degree is offered through the College of Agricultural and Life Sciences and is now available online. With an enrollment of approximately 1,000 undergraduate majors, we are one of the largest undergraduate science program at the University of Florida, and the largest microbiology program in the country.
Currently there are 22 tenure eligible faculty positions staffed, 8 non-tenure eligible faculty, 16 post-doctoral fellows, 22 office and technical staff, and 2 full time undergraduate academic advisers. Most faculty are involved in both teaching and research programs that complement one another. The faculty's research programs span areas of broad interest in the cellular and molecular aspects bacterial, plant and animal life functions. Areas of research include:
Microbial physiology, metabolism and regulation.
Molecular biology
Molecular genetics
Immunology
Virology
Host-pathogen interactions
Cellular ultrastructure
Environmental microbiology
Curriculum
The curriculum prepares students to meet their goals, which include professional careers in microbiology, or continuation of their education in professional programs such as medicine, dentistry, pharmacy, veterinary science, or graduate school.
The curriculum is composed of a diverse offering of courses in areas of microbiology and cell biology. Core courses are required of all majors while additional course requirements are met by departmental elective courses which allow undergraduate majors to concentrate in areas of interest or to meet future career goals.
All lecture courses offered by the department are taught by faculty with doctorate degrees. Academically qualified students with interests in research are encouraged to participate in faculty research programs through the Undergraduate Research course.
Course Requirements
Success in the major requires a strong foundation in biology, chemistry, math, and physics. All students are required to complete Principles of Microbiology (MCB3023) and Principles of Microbiology Laboratory (MCB3023L) at the University of Florida or a departmentally approved alternate location. This course is a prerequisite for most other required core and departmental elective courses in the major. Microbiology related courses taken at the community college cannot be used for core or departmental elective credits.
Research
Areas of research emphasis include microbial anaerobic metabolism and fermentation, microbial nitrogen metabolism, molecular mechanisms regulating enzyme synthesis and activity, biochemical aspects of cell differentiation and development, structure/function of cell walls and microbial glycohydrolases, molecular biology of plant metabolic processes, immunology virology and environmental microbiology.
Faculty Involvement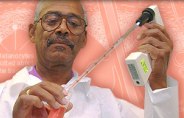 The departmental undergraduate program emphasizes the stimulation of creativity and development of reasoning and deductive skills. Our aim is to develop young scientists who are well versed in research, teaching and communication skills and are prepared to take their place in the scientific community to become recognized contributors in their areas of expertise.